Privacy and Security Alerts
How to keep your accounts safe
We want to help you keep your personal and banking information as safe and secure as possible. We've provided the following resources to help keep you informed on how to protect yourself against fraudulent activity, and instructions for what to do if you do discover fraud on your account.
In recent years, the FBI has seen a significant increase in fraud involving the exploitation of valid online banking credentials belonging to small and medium businesses, municipal governments, and school districts. In a typical scenario, the targeted entity receives a "spear phishing" e-mail which either contains an infected attachment, or directs the recipient to an infected website. Once the recipient opens the attachment or visits the website, malware is installed on their computer. The malware contains a key logger which will harvest each recipient's business or corporate bank account login information. Shortly thereafter, the perpetrator either creates another user account with the stolen login information or directly initiates funds transfers by masquerading as the legitimate user. These transfers have occurred as both traditional wire transfers and as ACH transfers.
Further reporting has shown that the transfers are directed to the bank accounts of willing or unwitting individuals within the United States. Most of these individuals have been recruited via work-at-home advertisements, or have been contacted after placing resumes on well-known job search websites. These persons are often hired to "process payments," or "transfer funds." They are told they will receive wire transfers into their bank accounts. Shortly after funds are received, they are directed to immediately forward most of the money overseas via wire transfer services such as Western Union and Moneygram.
Customers who use online banking services are advised to contact their financial institution to ensure they are employing all the appropriate security and fraud prevention services their institution offers.
If you have experienced unauthorized funds transfers from your bank accounts, or if you have been recruited via a work-at-home opportunity to receive transfers and forward money overseas, please notify the Internet Crime Complaint Center by filing a complaint at: http://www.ic3.gov.
For a detailed analysis of this scam please visit http://www.ic3.gov/media/2009/091103-1.aspx
The Federal Trade Commission today issued a new consumer education blog post with the National Association of Attorneys General, offering tips on how to recognize and avoid vaccine-related scams. According to the post, with COVID-19 vaccines in the pipeline, scammers will not be far behind, and people should recognize the red flags of potential scams.
The post notes that: 1) reports about the release of COVID-19 vaccines in the U.S. by the end of the year are promising, but distribution plans are still being worked out; 2) while we wait for a timeline and more information, people need to be wary of pitchmen claiming to have vaccine doses for sale; and 3) for most people living in the U.S., state agencies—not individuals—will be responsible for implementing vaccine distribution plans.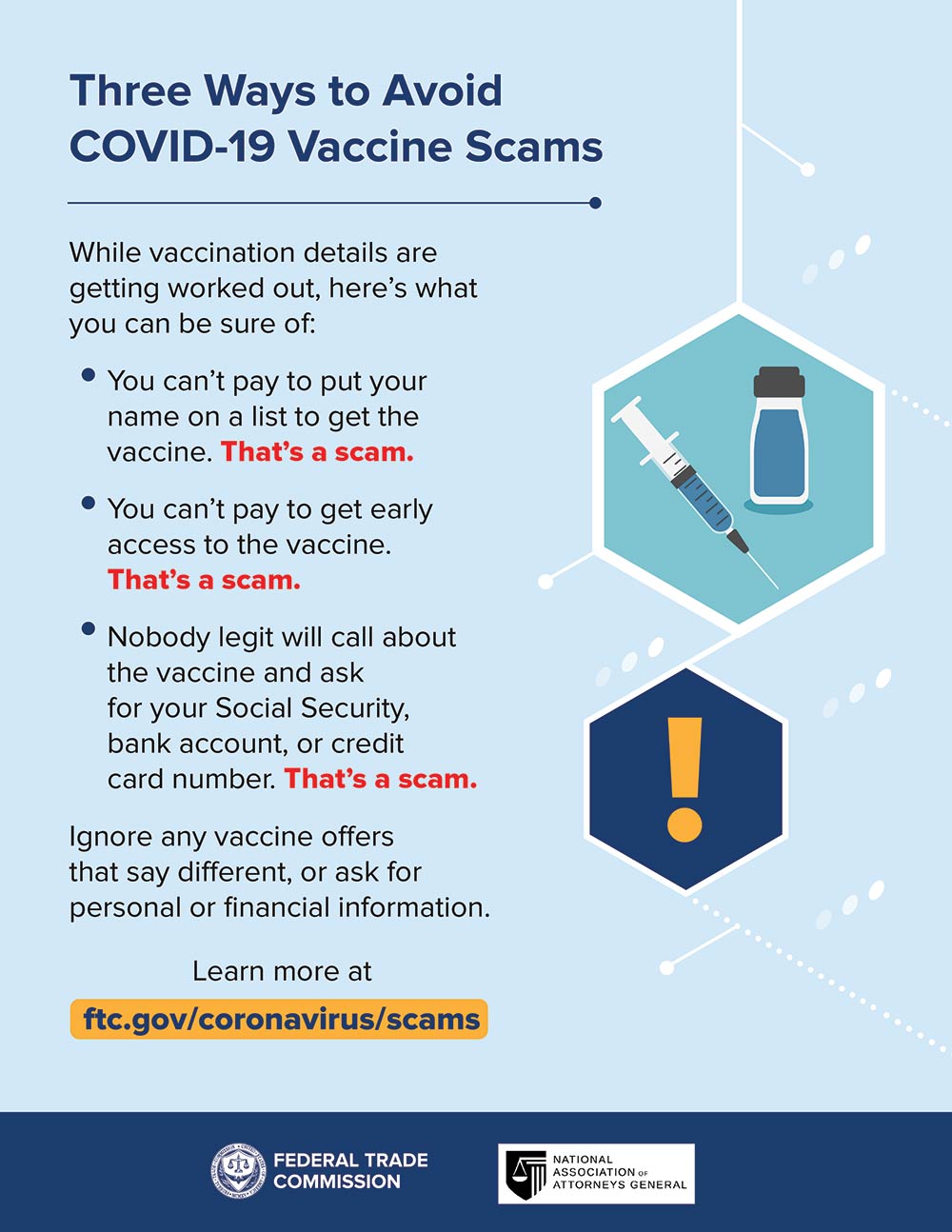 Specifically, the post cautions that until a vaccine distribution timeline is available, people should know that if they get a call, text, email—or even someone knocking on their door—claiming they can provide early access to the vaccine, it's a scam. People should not pay for a promise of vaccine access or share their personal information. Instead, they should report the scam to the FTC at ReportFraud.ftc.gov or file a complaint with their state or territorial attorney general through consumerresources.org, the consumer website of the National Association of Attorneys General.
For more information about COVID-related scams and tips on how to recognize, avoid and report them, see ftc.gov/coronavirus/scams.